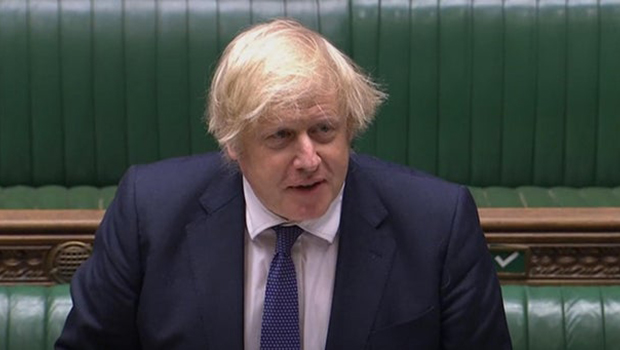 The Prime Minister Boris Johnson is facing ridicule tonight after claiming in Prime Minister's Questions today that "There is no such thing as a border between England and Scotland." This was in response to a question about there being a potential quarantine situation when people from England enter Scotland.
The reason that this has been under discussion is that the incidence of COVID-19 is much more under control that Scotland. The respected New Scientist magazine even carried an article with the headline "Scotland could eliminate the virus if it weren't for England".
There are increasingly voices within Scotland calling for the border to be closed in order to protect Scotland from a second spike caused by inward tourism from England, citing a cross-border cluster of cases as an example of why this is desirable, with the First Minister having confirmed that this is one possible option being looked at going forward.
When asked at the Scottish Government's daily coronavirus briefing about the Prime Minister's "No border" comments, the Scottish First Minister responded that it was "such an absurd statement".
Ms Sturgeon added: "What there definitely is, is a geographical boundary to my powers as First Minister.
"If the Prime Minister is questioning that now, I'm not sure what he would say if I pitched up in Newcastle and started to try to implement Scottish Government policies in Newcastle.
"And see what I've just said there? It's absurd too, which is why we shouldn't be having these discussions.
"We should all be focusing with an absolute laser-like focus on what we need to do within our own responsibilities and working together when necessary to stop a virus."
I detest the way Tories have continued petty politicking throughout this pandemic. They've played politics with people's lives and now they are seeing dire consequences.

Why should Scotland have to suffer as part of a union that doesn't put its welfare first?

— Ross Colquhoun (@rosscolquhoun) July 1, 2020
A hit, a palpable hit, ma'am.

Boris says: 'There is no border.'
Nicola says: 'An absurd statement; if the prime minister is questioning that, what would he say if I pitched up in Newcastle and tried to implement Scottish government policy there.'

— Grouse Beater (@Grouse_Beater) July 1, 2020
Also, if there is no border between Scotland and England, then how come only people living in Scotland voted on independence in 2014? How come EVEL exists? Why would there be a Scottish Parliament?

Boris Johnson is talking shite. As usual. https://t.co/xrAIsIPyU3

— 𝚒𝚗𝚍𝚎𝚙𝚎𝚗𝚍𝚎𝚗𝚌𝚎 𝚙𝚑𝚊𝚜𝚎 𝟸 💬 (@wordamentalist) July 1, 2020
Comments
comments