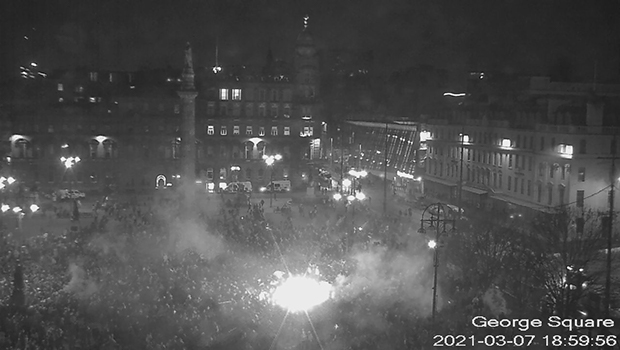 The First Minister has slammed Rangers fans for taking to George Square to celebrate their victory in the league, and urged them to go home. They are breaking lockdown en masse at a pivotal moment in the battle against Covid and appear to be largely unmasked and ignoring all social distancing.
Nicola Sturgeon took to Twitter to congratulate Rangers on their victory but also to warn that the actions of their fans could mean a delay on exiting lockdown for everyone. This is the second day in a row Rangers fans have broken lockdown rules, after they also gathered outside Ibrox yesterday.
The First Minister stressed that they were risking lives and urged them to go home if they "care at all about the safety of others and the country".
I congratulate @RangersFC on the title win & recognise what a moment this is for fans. But gathering in crowds just now risks lives, and could delay exit from lockdown for everyone else. If those gathering care at all about the safety of others & the country, they will go home. https://t.co/MjzJJEhhsd

— Nicola Sturgeon (@NicolaSturgeon) March 7, 2021
People have been tweeting videos and footage from George Square which show flares and smoke, fireworks going off and crowds pressed closely together.
Rangers fans celebrating at George Square pic.twitter.com/ctJEpBsUjf

— Fitba Culture 🏴󠁧󠁢󠁳󠁣󠁴󠁿 (@fitbaculture) March 7, 2021
Live scenes at George square pic.twitter.com/ZTDIblHII1

— fat div (@DivWilsonnn) March 7, 2021
UPDATE: Rangers fans gather in George Square after Premiership win.
Image credit: Glasgow City Councilhttps://t.co/ejIHwbLwe5 pic.twitter.com/eV8QzJyGdw

— STV News (@STVNews) March 7, 2021
Extraordinary photos dropping from pic agencies outside Ibrox as Nicola Sturgeon warns Rangers fans "could delay exit from lockdown" for entire country pic.twitter.com/XnHR4fQo5m

— Chris Green (@ChrisGreenNews) March 7, 2021
Comments
comments