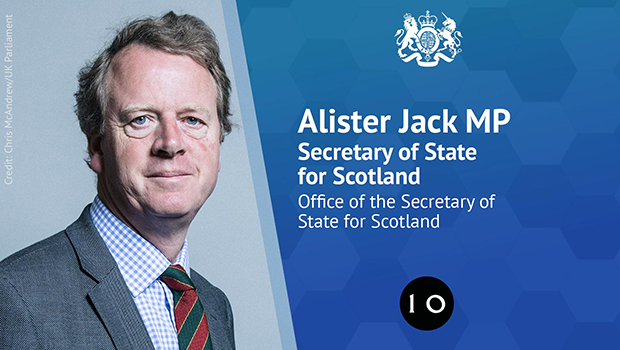 Many seasoned political commentators were confounded by Boris Johnson's choice for Secretary of State for Scotland, with other names such as Ross Thomson or even Ruth Davidson being mooted as potential fillers of the post vacated by the sacking of David Mundell.
So, what do we know about Alister Jack?
He was born in Dumfries and grew up nearby in Dalbeattie and Kippford, was privately educated at Glenalmond College in Perthshire which was a fee-paying all-boys school at the time. He is 56 years old and is new to elected politics, having won Dumfries and Galloway in the 2017 snap General Election by ousting Richard Arkless of the SNP. He has a 5,643 (10%) majority in the constituency. Although new to elected politics, he did contest a seat previously in 1997, Tweeddale, Ettrick and Lauderdale, where he came third.
Mr Jack is a multi-millionaire and a businessman and has amassed an estimated £20 Million fortune from tent-hire and self-storage companies. He also owns a 1,200 acre farm near Lockerbie. He has a wife and three grown up children.
Since becoming an MP in 2017, Mr Jack has held a series of roles in the UK Government including Parliamentary Private Secretary (PPS) to Baroness Evans of Bowes, the Leader of the House of Lords (August 2018 – February 2019); Assistant Government Whip (February 2019 – April 2019); Lord Commissioner of the Treasury (April 2019 – July 2019); and now Secretary of State for Scotland.
Where does he stand politically?

Mr Jack has a record of voting against more powers for the Scottish Parliament, and has consistently voted to reduce the amount of money the UK Government spends on local government. He has voted against financial incentives for low carbon emission electricity generation methods and for high speed rail projects which will see Scottish taxpayers being forced to pay for HS2 rail, which will never reach Scotland.
As you would expect from a Conservative multi-millionaire, he has consistently voted against higher taxes on banks, and he has voted against laws to promote equality and human rights. He has also voted against more EU integration and to leave the European Union.
It is safe to say that the new Secretary of State for Scotland has his work cut out for him, with relations between the UK Government and the Scottish Government at a low ebb and Boris Johnson not exactly endearing himself to Scottish voters who can't see why they should accept a Prime Minister they didn't elect who is trying to force through a Brexit they didn't vote for. Many speculate that Boris Johnson's tenure as Prime Minister will either be one of the shortest in history, see the breakup of the UK or encompass both of these eventualities.
Of course, the new Secretary of State for Scotland will reflect on the new premises being built in the centre of Edinburgh and consider it a statement of intent that the UK Government will be in control of Scotland for some years to come. There are those who speculate that the UK Government has just built some usefully located and attractive offices for an independent Scottish civil service to move into, sooner rather than later.
Comments
comments