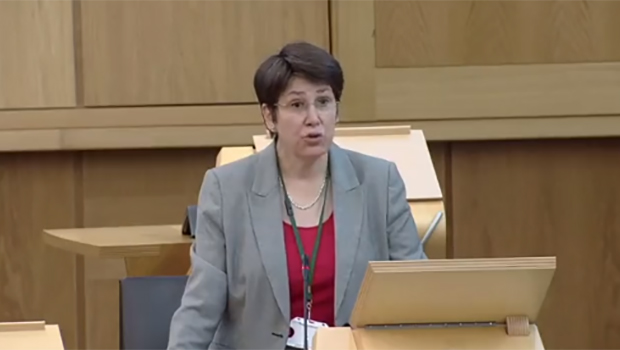 A new Tory MSP has been forced to apologise to the First Minister after heckling her from a sedentary position at FMQs. The comment, which wasn't picked up by the TV footage but left Nicola Sturgeon visibly upset and angry, is understood to have been "Unless you're English." after the First Minister had said "anybody who chooses to live in Scotland… this is their home." The question the First Minister was answering was on anti-Irish racism and bigotry, following recent events in Glasgow.
Nicola Sturgeon has said she was 'deeply offended' by a comment shouted in Holyrood which alleged Scotland is not welcoming to English people. https://t.co/0EaoerrVJg pic.twitter.com/RzVBMBDz1W

— STV News (@STVNews) September 2, 2021
The Presiding Officer issued a rebuke at the point the comment was made and the First Minister asked to meet with her after the session to discuss the matter further. Later this afternoon, Ms White made an apology to Parliament and was asked by the Presiding Officer to confirm that it was an unequivocal apology and that she withdrew her remarks in full. She then stood to confirm this was the case.
North East MSP Tess White has apologised to the First Minister and withdrawn her comments

The Tory MSP says they were "over the line"

The Presiding Officer says the remarks caused great offence. No further action will be taken pic.twitter.com/g3ZBfSYR02

— Radio Clyde News (@RadioClydeNews) September 2, 2021
The Presiding Officer, Alison Johnstone, who was elected as a member of the Scottish Greens at the election in May but sits as an independent for her term as Presiding Officer, rebuked Ms White and said:

"I'm grateful that Ms White has reflected on her behaviour, and that you have apologised to the Chamber for these remarks. You will be in no doubt at all Ms White that great offence was caused and I would like to be absolutely certain that that is an unambiguous apology, that you withdraw the remarks, and that you apologise wholeheartedly."
"I would just like to say further, that the fact on this occasion no further action will be taken does not in any way detract from the seriousness with which I view this incident. Members must be in no doubt at all that I expect their conduct at all times will be worthy of that of a Member of the Scottish Parliament.
Comments
comments