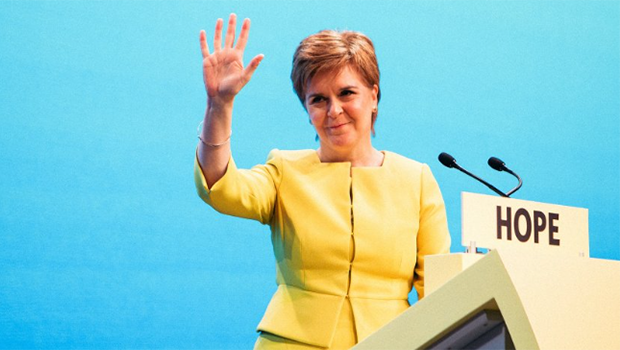 The Scottish National Party is experiencing a huge membership surge this evening after the First Minister's evidence session earlier today at the Scottish Parliament Committee on the Scottish Government Handling of Harassment Complaints.
The First Minister's widely televised appearance today in front of the committee, with her calm and assured handling of what were often very hostile questions from opposition committee members including Jackie Baillie (Labour) and Margaret Mitchell (Conservatives) seems to have triggered a spike in membership applications, with people who had earlier left the party also rejoining.
Twitter and Facebook are full of people sharing membership links and membership application confirmations. The concerted media campaign against the SNP and independence over the last few months appears to be backfiring in some style. The Deputy First Minister has been quick to welcome the influx.
A very warm welcome to those of you who have joined #PerthshireNorth ⁦@theSNP⁩ today. And here is a handy link for anyone else who wants to join too. https://t.co/9RcS39BLkE

— John Swinney (@JohnSwinney) March 3, 2021
I've just rejoined The SNP because the only thing that matters to me right now is stopping the bastarding Tories from governing Scotland, and us taking our independence back 🏴󠁧󠁢󠁳󠁣󠁴󠁿

I just joined the @theSNP. Join me! https://t.co/hxj02ofdW1

— Alexandra (@Alexx_McArthur) March 3, 2021
I have never been a member of a political party in my life before.#IStandWithNicola

I just joined the @theSNP. Join me! https://t.co/YW8ydwfMkC

Onwards…

— Paul Skrgatic (@Pablodelmar) March 3, 2021
My timeline is full of people that have joined/rejoined @theSNP 💛

Welcome (back) to the party that will get us independence 💛 pic.twitter.com/UXLrORBiMx

— 𝓐𝓷𝓾𝓶 (@AnumQaisarJaved) March 3, 2021
Today was the last straw. I'm sick of this bullshit… I just joined the @theSNP. Join me! https://t.co/4M9iyCJE4h

— Pauline Shaw (@Pauline172uk) March 3, 2021
You have to laugh. @jackiebmsp @murdo_fraser have been calling for months for @NicolaSturgeon to be taken off air. Today they put the @ScotGovFM on air from breakfast to dinner time, her leadership shown and thousands have joined the @theSNP. Thank u Jackie & Murdo.

— BothwellIndependista (@arichmondScot) March 3, 2021
I've just joined @theSNP even though I have been a voter for a while. Watching @NicolaSturgeon today for almost 8 hours; a true leader who kept her cool & answered (repeatedly) each question clearly & consicely. #IStandWithNicolaSturgeon https://t.co/kyHzAhrc4O pic.twitter.com/VZYhcivNw7

— Louise Howe (Freeman) (@LPS_Louise1) March 3, 2021
Just joined @theSNP A woman like @NicolaSturgeon that can handle that today is right for the job for me ⭐️ 🏴󠁧󠁢󠁳󠁣󠁴󠁿although I already knew it. #IStandWithNicola pic.twitter.com/mWXpiab6oV

— Pamela (@jellybean0105) March 3, 2021
For 32 years I've stayed outside but today I joined the @theSNP I don't need a perfect leader or to agree with all her views but I stand with @NicolaSturgeon. Time to pick a side. Join me! https://t.co/LLbbOISg7h

— Stephen – European 🎗️ (@stephenabarlow) March 3, 2021
I've joined @theSNP

They aren't perfect and I'll criticise when it's due but there can be no doubt they are the only party that cares about the people of Scotland and our future

The witchunt by other Politicians/Media against Nicola Sturgeon has been disgusting

— Ducking Hell (@Gcam80) March 3, 2021
Comments
comments