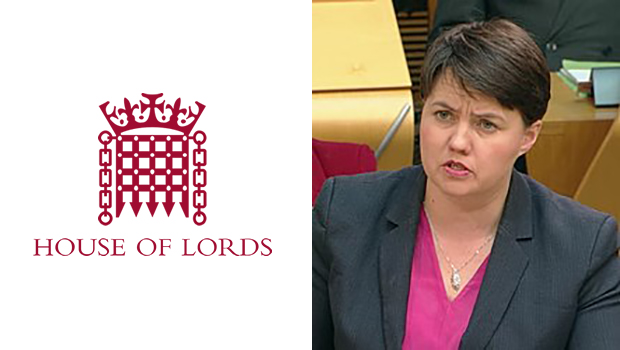 There are rumours circulating in Westminster and beyond that Boris Johnson is going to use his first nominations to the House of Lords to ennoble Ruth Davidson MSP, the former leader of the Scottish Conservative and Unionist Party.

Ms Davidson stepped down from that role using the time-honoured political phrase that she "wanted to spend more time with her family". This was perfectly understandable at the time as she had just given birth to a new baby with her partner and the pressure of juggling both roles can be intense.
Ruth Davidson has always been well-regarded in Conservative circles, particularly South of the Border, where she was seen to be a bulwark against Nicola Sturgeon and the SNP. The statistical reality of her electoral term as leader however, saw her eat into the Labour vote by doubling down on Unionism, rather than come anywhere close to being a First Minister in waiting. This was despite a sympathetic media pushing the myth that she was actually in contention for the role.
Ruth Davidson plays to the hard core unionists but these are a dwindling number and she is facing criticism for her constant use of violent language like "putting the boot in". She is a divisive figure and there is a consistent majority of people who are now against the continuation of the Union.
There is intense speculation about a future Ministerial role for Ruth Davidson, once she enters the House of Lords, especially as the current Conservative Government has not shied away from the prospect of appointing un-elected Lords as Ministers thus far.
It would seem that the hapless Alister Jack MP, Secretary of State for Scotland hasn't really made any headway in the role, given the spike in support for independence during his tenure and the Scottish Conservative ranks are apparently so short on talent that the Prime Minister appointed the junior Ministerial position in the Scotland Office from amongst the Tory MPs representing England.
It is likely that Ruth Davidson will see out the remainder of her Scottish Parliament term, having already announced her intention to quit at the 2021 election. There is clear precedent for this as several MSPs have held dual mandates in the Scottish Parliament and House of Lords, including Sir David Steel and Lord Mike Watson.
Ruth Davidson will join the ranks of other "Better Together" alumni in the un-elected House including Lord Alistair Darling and Lord George Robertson.
Comments
comments