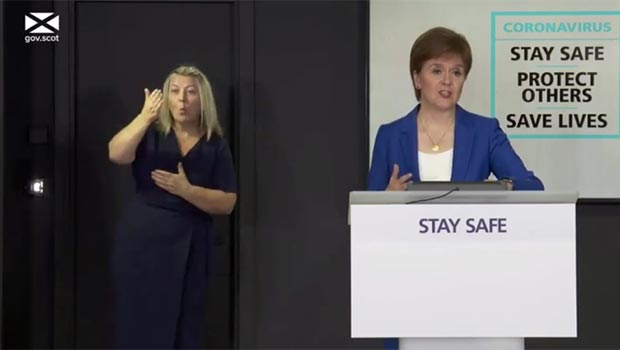 The First Minister has confirmed that there have been no Coronavirus deaths in Scotland for six consecutive days. This hopeful news was announced in the daily briefing by the Scottish Government.
Nicola Sturgeon said: "It's worth noting today is the 6th day in a row in which zero deaths have been registered. It's also the first Monday with no deaths registered since the 10th March, which, as you know, is before lockdown started. "
The First Minister went on to explain that: "Tomorrow, National Records of Scotland will publish their weekly report on Covid deaths, which uses a broader measurement than our daily figures."
Nicola Sturgeon also took time to thank health and social care staff, saying: "In addition, I also want to thank again our health and care workers. The entire country is extremely grateful to you for everything you do.

"Today, let me be very clear that that includes the care home staff who do us the honour of coming to Scotland from overseas to work here, including the 6-8% of care home workers who come from other countries within the European Union.
"In my view, it is essential that care home workers are included in any scheme for post-Brexit work visas. The Scottish Government will continue to make strong representations on that point to the UK Government."
The First Minister also praised the contribution of Council staff: "I also want today to pay tribute to staff in our local authorities across the country. During this pandemic council workers have continued to deliver essential services in very challenging circumstances but they've also worked closely with the Scottish Government on vital issues such as housing homeless people, paying business grants, providing education hubs and much, much more."
"In doing that, they have protected vulnerable people and provided help for those who need it. That effort has been and continues to be hugely appreciated."
Comments
comments