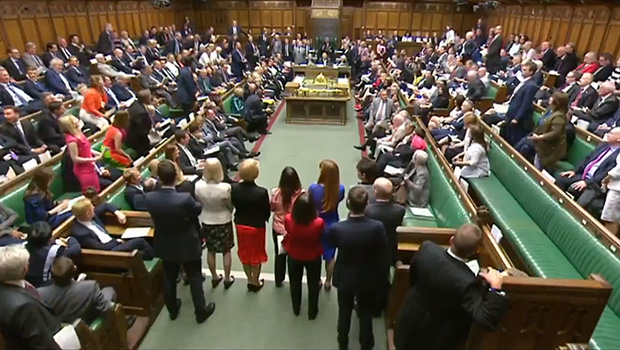 Every SNP MP has walked out of Prime Minister's Questions in the House of Commons over what the SNP leader at Westminster, Ian Blackford MP described as the "democratic outrage" of yesterday's Brexit debate which served as a power grab which clawed back many of the powers devolved to the Scottish Parliament and effectively destroyed the devolution settlement agreed on in a referendum of the Scottish people over 20 years ago.
There was also controversy last night when an SNP MP asked how they were meant to debate the matter in the allotted time and a Conservative MP responded with "Commit suicide".
At PMQs today, Mr Blackford had attempted to move a motion to force the House of Commons to sit in private, which would have suspended Prime Minister's Questions, the televisual highlight of the Parliamentary week, in protest at the contemptuous treatment of Scotland yesterday. The Speaker appeared to receive conflicting advice from his clerks and many observers believe he failed to uphold the Standing Orders of the House by failing to call the vote as requested. Mr Blackford and the SNP MPs were incensed at this and Mr Blackford refused to sit down before being expelled by the Speaker and leading a walk out of every SNP MP from the Chamber.
Commenting Ian Blackford MP said:
"I called for the House to sit in private – using parliament's own procedures to ensure Scotland's voice is heard on Brexit. Proceedings on the EU Withdrawal Bill last night were a democratic outrage and the Scottish Parliament must be respected.
"The Prime Minister gave a commitment that she would treat Scotland as part of a 'union of equals'. Yet last night she pressed ahead with a power-grab in direct opposition to Scotland's elected Parliament.
"We hear from the Prime Minister about respecting devolution. But the Prime Minister has ignored Scotland.
"The Tories haven't won a democratic mandate from the people of Scotland for over 60 years, yet they press on to claw back powers from Holyrood without consent. Their respect for Scotland is skin-deep at best.
"History will remember this defining moment when the UK Parliament chose to reject devolution. This will haunt the Scottish Tories for a generation."
Comments
comments