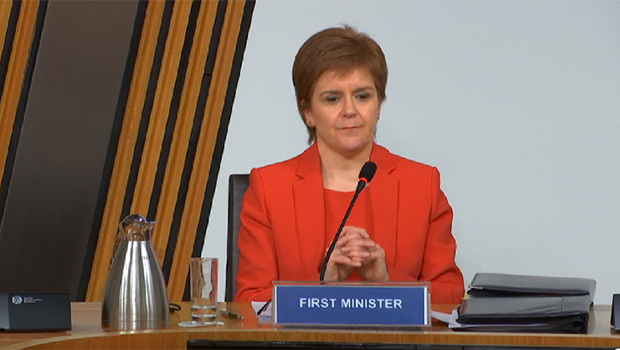 There has been an outpouring of support for First Minister Nicola Sturgeon MSP on social media today following her appearance in front of the Scottish Parliament Committee on the Scottish Government Handling of Harassment Complaints.
The First Minister appeared in front of the committee for around 8 hours of extraordinarily adversarial and hostile questioning today and the Convener of the Committee was forced to intervene several times when overtly party political points were made.
In her opening remarks, Ms Sturgeon explained that in the wake of the #MeToo movement, she was not prepared to intervene in the complaints process on behalf of former First Minister Alex Salmond.
Ms Sturgeon said: "I feel I must rebut the absurd suggestion that anyone acted with malice or as part of a plot against Alex Salmond.
"That claim is not based in fact. What happened is this and it is simple. A number of women made serious complaints about Alex Salmond's behaviour. The government – despite the mistake it undoubtedly made – tried to do the right thing.
"As First Minister, I refused to follow the age old pattern of allowing a powerful man to use his status and connections to get what he wants."
The full text of the First Minister's remarks is available here.
There has been huge support for the First Minister all day on social media as the committee meeting took place, with the #IStandWithNicola hashtag trending on Twitter and also being used widely on Facebook to indicate support.
The Unionist politicians have been looking forward to today for some time and saw it as their chance to put the First Minister under pressure but Ms Sturgeon has been handling difficult questions all of the past year, every day as part of the Covid briefings and was very well prepared, calm and collected throughout. It is fair to say that not one opponent managed to lay a glove on her, despite some very intemperate language toward the end from Tory MSP Margaret Mitchell, which was remarked upon by the Convener.
Support for the First Minister:
Nicola Sturgeon is the reason I moved to YES in 2014

Nicola Sturgeon is the reason Scotland is one of the fairest countries to live in

Nicola Sturgeon is the reason #indyref2 support is at an all time high
@NicolaSturgeon is the leader Scotland deserves#IStandWithNicola

— James Munro 🏴󠁧󠁢󠁳󠁣󠁴󠁿 (@JamesMunrooo) March 3, 2021
Tour de force by @NicolaSturgeon
Last submission should be noted by @Conservatives on how to be honest & win trust of electorate instead of othering & blaming the victims of their odious manoeuvrings.#holyroodinquiry #IStandWithNicola @patrickharvie take note.@JohnSwinney

— Graham Stewart 🥥 (@ThirlDad) March 3, 2021
If anyone thought this "inquiry" into #NicolaSturgeon was anything other than a pre-judged witch hunt of the most hypocritical, then #margaretmitchell has just surely opened your eyes

Disgusting #IStandWithNicola #snp #ToryHypocrisy

— Ally🤘 (@afrew43) March 3, 2021
The rank sexism of people blaming Nicola Sturgeon for the aftermath of Alex Salmond's appalling behaviour is breathtaking.

— stuart braithwaite (@plasmatron) March 3, 2021
#IStandWithNicola now trending at No1 in the UK and beating the Unionists "resign Nicola" one.

Keep up the good work peeps. #IStandWithNicola

— 🏴󠁧󠁢󠁳󠁣󠁴󠁿INDY4SCOTLAND 🍍 (@indy4scotland1) March 2, 2021
@NicolaSturgeon I stand with you Nicola. Watching the grilling you had today was difficult as an observer I can't imagine what it felt like to you. You did brilliantly as always, the truth is messy but unshakeable, I think you just proved that. #IStandWithNicola pic.twitter.com/QQiNUjpKtA

— #WeAreSoF**ked 😷 3.5% 🇪🇺⭐🕯️ Fiery #RejoinEU (@FirehorseP) March 3, 2021
#holyroodinquiry Storming closing remarks from @NicolaSturgeon and biting response to Margaret Mitchell's rambling diatribe. Absolutely skewered her comments.#IStandWithNicola

— 33rpm (@33rpm9) March 3, 2021
#IStandWithNicola pic.twitter.com/39UXeGtFcu

— Scotlassy 🎨 (@memphisflash56) March 3, 2021
Bravo, @NicolaSturgeon. I can't imagine any other UK politician giving clear, concise and honest answers to a barrage of interrogation for 8 HOURS straight. Nicola never ceases to astonish and amaze me. That's what leadership looks like #IStandWithNicola #BothVotesSNP

— Laura K 🏴󠁧󠁢󠁳󠁣󠁴󠁿🏳️‍🌈🇪🇺 ~WEAR A MASK~ (@MissKayBiology) March 3, 2021
Whatever your view… the sheer stamina of fielding questions from a raft of different committee members hour upon hour suggests extraordinary mental stamina. I'm bushed and I'm only watching!

— ruth wishart (@ruth_wishart) March 3, 2021
There are a number of things I could tweet about some cttee members today but I'm not going to! I will just say that was an opportunity to see Nicola Sturgeon unfiltered and to me it was very evident why she is a great MSP and the best FM this country could have.

— Mhairi Hunter (@MhairiHunter) March 3, 2021
Comments
comments