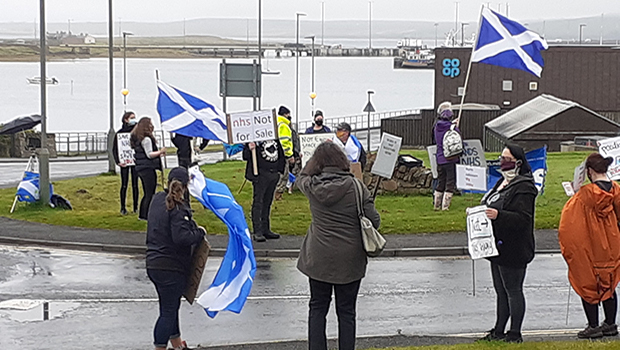 It had been obvious to most observers that the Prime Minister, a man not known for dealing well with confrontation, having once famously hid in a fridge, would not be meeting the public on his tour of Scotland. He failed to surprise anyone by staging carefully managed press opportunities far from any chance of genuine public engagement, with every meeting behind closed doors.
These weren't the actions of a confident Prime Minister and he has much to lack confidence about when it comes to Scotland. Recent polls have consistently put backing for independence in the majority and he may well end up best known as the last Prime Minister of the UK.
Boris is so used to being considered a buffoon and a figure of fun that it probably didn't cross his mind that there was more than just humour at play here. He is genuinely disliked in Scotland, there is a gulf between Nicola Sturgeon's popularity and his own that even a bridge as long as his proposed one from Scotland to Northern Ireland couldn't span. He is a full 100 percentage points adrift of the First Minister when it comes to popularity and people in Scotland will have seen nothing today to soften that opinion.
It says much that the trending hashtag on Twitter is #BorisFarewellTour. Some of the best tweets about his visit are below.
The sentiment of my last tweet neatly illustrated in today's @thetimes cartoon 😉 pic.twitter.com/8rC84Ga6As

— Nicola Sturgeon (@NicolaSturgeon) July 23, 2020
Boris Johnson taking a moment to appreciate the Scottish countryside on his #BorisFarewellTour pic.twitter.com/BfzlzTebLs

— dave ❄️ 🥕 🧻 (@davemacladd) July 23, 2020
He flew in and out of a dull and damp #Orkney. Boris Johnson, disengaged as he was from the public, will know his dysfunctional Union is on borrowed time when folk turn out to protest in a place represented by Scotland's longest serving Unionist MP. #Indyref2 #BorisFarewellTour pic.twitter.com/GJX8NGDK4c

— Robert Leslie (@robertleslie69) July 23, 2020
#BorisFarewellTour

1 Failed to meet the general public

2 Arrogantly claimed Scottish campaign against Covid was run from the British Gov not to mention a lie

3 Claimed the Union has never been Stronger! Aye right!

4 Claimed 50 million for Orkney is new money it isnt!

— THE BLACK SALTIRE#FBSI (@80_mcswan) July 23, 2020
He's Here!#BorisFarewellTour pic.twitter.com/5QkIy3QMaJ

— LostBhoy🕚🏴 (@OrkneyBhoy) July 23, 2020
So popular you have to do 'press' in a field in the countryside…

Boris Johnson in Orkney today for his farewell tour of Scotland 👋🏼🏴󠁧󠁢󠁳󠁣󠁴󠁿 #BorisFarewellTourpic.twitter.com/1OSoSP0X5G

— BurnBanksy (Satire) 🏴󠁧󠁢󠁳󠁣󠁴󠁿 (@BurnBanksy) July 23, 2020
There's a liar in my soup 👇🤣#BorisFarewellTour pic.twitter.com/WmSWb43K4r

— Kathryn Shearer 🏴󠁧󠁢󠁳󠁣󠁴󠁿 (@gothictemptress) July 23, 2020
Comments
comments